Dr. Housing Bubble (Link) (May 14, 2009)
Banks, take the blue pill. Public, please take the red pill. If I had to characterize the current economic environment, it would have to consist of two completely different sets of beliefs.
On one hand, you have banks and Wall Street receiving massive bailouts from the U.S. Treasury and the Federal Reserve, bailouts of the magnitude that would gear up for a Great Depression and imply that the banking system of our country is insolvent.
Then on the other hand, you have Wall Street and the crony banks trying to convince the public that this is a minor recession and all will be well in Q3 and Q4 of 2009. The problem of course is that this is not your typical recession yet the public is being led to believe that all is well while bailouts are being dolled out by the truckload to the wrong locations. The actions we are taking keeps in place the banking oligarchy and sacrifices the public under the guise that this is good medicine for the general economy.
Nothing proves this point better than the current nationwide foreclosure issue: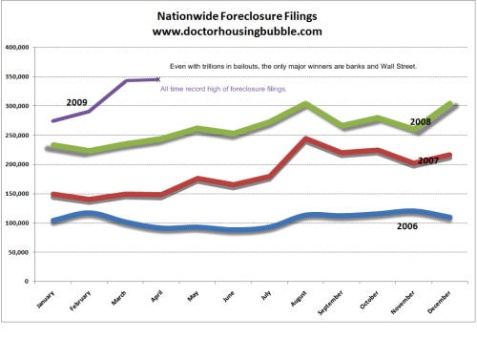 The latest housing data shows that nationwide we have just shattered all records for monthly foreclosure filings in one month. Take a close look to the chart above. Foreclosures are moving higher and higher. We are now approaching the 2-year anniversary of this housing and credit crisis yet the core issue of housing is still not being dealt with. What we are doing is bailing out banks while the public is left to deal with the fallout. The hypocrisy is creating deep anger, as it should. When TARP 1 came out, banks were given the first $350 billion with no questions asked. That money of course has been squandered. However, when it comes to modifying the mortgage of struggling homeowners, banks conveniently find every excuse to avoid reworking the mortgage. And when I say reworking, I mean cutting the principal down not extending the term out to 40 years or cutting the interest rate by a point. This is their idea of working with the public.
The foreclosure chart above tells us one thing. We are not helping the public. We are not solving the housing crisis. The notion that bailing out banks would somehow trickle down to the public is absurd. How many issues of systemic failure did we deal with? AIG? Fannie Mae and Freddie Mac? Lehman Brothers? The list goes on and on. With the AIG bailout, we used systemic failure as the premise to funnel money through the firm as a conduit to Wall Street firms like Goldman Sachs. Can't allow them to lose a penny because that would be systemic.
And by the way, do you remember those estimates last year that the GSE bailout was actually going to give us a profit in the long run or at worst, cost us $25 billion?
"(WaPo) The Obama administration has clarified what it expects the takeover of Fannie Mae and Freddie Mac to cost taxpayers: $171.1 billion."
Whoops! Missed by a few hundred billion there. Yet someone that lost their job and lost their home has already faced systemic failure. We have in our country nearly 25,000,000 unemployed or underemployed Americans. And somehow, the market is shocked that retail sales contracted? Of course it contracted. The public doesn't have an unlimited credit card to the Federal Reserve and U.S. Treasury like the banks and Wall Street. Ironically, it is the public that is now paying for the mess with no benefit at all. We have now committed over $13 trillion in bailouts, almost one year of our nationwide GDP. You would think that with so much money funneled into the system drastic changes would be occurring. They are not because banks are hoarding money: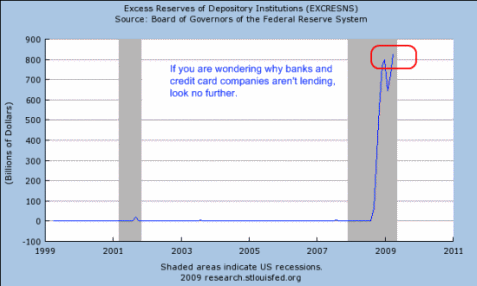 And the above makes a lot of sense. If you look at the record number of foreclosures and defaults, banks are doing the right thing (according to their balance sheets). They are operating for their own survival. But that wasn't how the bailouts were presented. Can you imagine if they told the public the real reason for the bailouts,

"Hi everyone. We are going to need to commit trillions of your dollars to bailout a banking system that failed you. A system that didn't exercise due diligence. A structure that fueled the housing bubble. What will you get in return? You get to keep us going. The system that failed you appreciates your support."

What the public was told is that these bailouts were required to keep lending going and to ameliorate the housing situation. Both of those objectives have failed as the charts above show. The public is catching on and that is why they are now forced into saving (thus not spending on consumption showing up in drops in retail sales):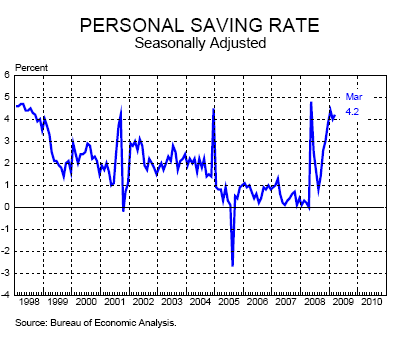 Doesn't the excess reserve chart and the savings rate chart look the same? Of course. The public is doing the right thing and pulling back because this is the deepest economic crisis we have had since the Great Depression. When the public starts waking up to this, that we are only bailing out the banking system and Wall Street, friction will start to rise and you saw some of this with the AIG bailouts. But the public forgets quickly and this recent stock market rally is a testament to that. Let us see how long that AIG anger lasted: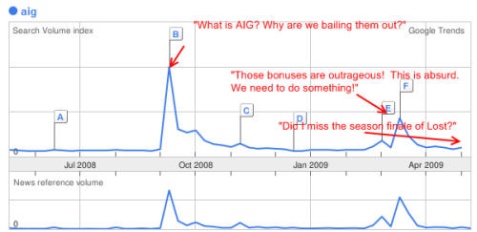 All it took to forget the bonus mess was one month. In the last few weeks, cram-down legislation was introduced again and failed, again. Why? Because this isn't your bailout, this is a bailout for the banks and the cronies on Wall Street. It is social welfare for the banking oligarchs. And guess what? Our representatives from both sides of the aisle voted it down. Wall Street and the banking system are the biggest contributors to both political parties. Who are they really representing?
Our public officials have missed the ball so badly on this financial mess. It went from Greenspan praising the glory of adjustable rate mortgages, to Bernanke saying subprime was contained, to Paulson saying we need to give money to banks, no questions asked or the global economy will implode like a supernova in the matter of a few years. Let us take the glorious state of California for an example. After having a record budget impasse, we finally passed a compromise in California that left both sides with a bitter taste and unsatisfied. After only a few weeks of taking care of the 2008-09 budget, we find out that we have an $8 billion short-fall! This only after a few weeks. How in the world do you miss $8 billion? Okay, so we'll chalk the $8 billion miscalculation to bad weather. Another few weeks pass and guess what? Our Governator now tells us we have a $15 billion budget short-fall and if the propositions don't pass on May 19th, it will be up to $21 billion. You want to know why they are so off? Let us go back to the fall and see their projections: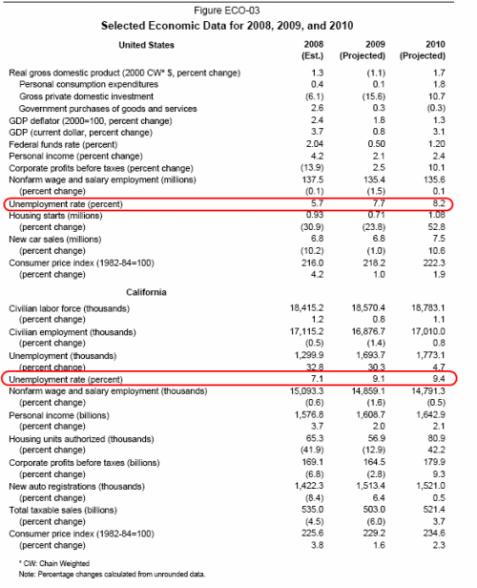 They were projecting a peak unemployment rate of 9.4 percent for 2010! Take a look how off they are on that one: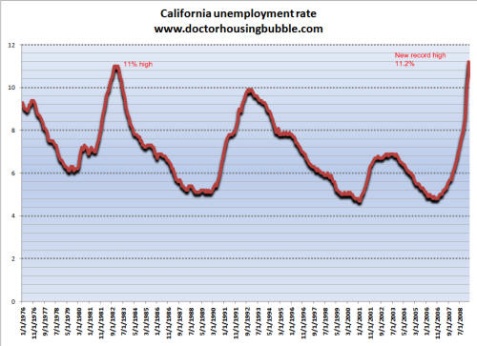 We are now up to an 11.2 percent unemployment rate. Basically, they have been completely wrong in all their assumptions and that is why we have gone from an $8 billion shortfall to a $15 billion shortfall in a few weeks. Utter insanity. If you ran your household like this, you would be kicked out to the street. They are operating under the second half recovery model that has caused the 30+ percent bear market rally. This is not going to happen. The new mantra should be, "things are getting worse more slowly." That is, unless you are a banking executive and then, you are getting saved on the taxpayer's dime. Where in the world are the freaking prosecutions? Where are today's Pecora Investigations? How much more evidence does the public need to realize that the current trajectory is not good for our country's long-term sustainability? Over a year ago, I started mentioning that the U.S. is on path to a Japan like lost decade. This week none other than noble-Prize winning Paul Krugman is saying the same thing in China. We are zombifying our banks and setting ourselves up to a decade of stagnation. Is this really what we want? It isn't too late to shift course and temporarily nationalize the banks and clean them up. We still haven't jumped into the horrific public-private investment program (PPIP) which will be another transfer of wealth to banks and Wall Street of an additional $1 trillion. It will be a slow burn and before we know it, many will realize that they have been conned and this will make Bernard Madoff look like the epitome of conservative investing.
So where do we stand today? We have a crucial choice to make here. Do we want to make banking a utility like industry or bailout Wall Street and banks so they can go back to the global financial casino? So far, the path we are taking is keeping the casino alive. The issue of course is to find people at the levers of power in the government who are not soiled by banking industry money. This is a challenge and that is why trillions in bailouts are going to banks and Wall Street while the public gets the shaft. $100 to the banks, $1 for you. At times, I sit back and wonder why the public isn't in a bigger uproar? Are they not angry that their money is going to bailout a crony oligarch banking system? Then I remember those times in college where I would hear peers say, "I hate math, don't want to deal with it ever again." Therein lies the problem. Very few in the public really understand what is going on. How many times have you seen CNN, MSNBC, Fox, or even CNBC go in depth about the Federal Reserve? I'll leave you with a quote from Henry Ford:
"It is well enough that people of the nation do not understand our banking and monetary system, for if they did, I believe there would be a revolution before tomorrow morning."