The Washington Post (Link) - Elizabeth Flock (March 10, 2011)
A day before protesters planned to take to the streets for an anti-government "Day of Rage" rally in Saudi Arabia's capital, there were conflicting reports of Saudi police firing shots at protesters in the eastern city of Qatif.
An Interior Ministry spokesman said Saudi police fired over the heads of protesters after they attacked policemen, according to Reuters.
Three people were injured during the protest, one of them a policeman, the spokesman told reporters. He did not say how the injuries were caused.
AP reported that one witness, a Shiite activist in Qatif, 12 miles north of Dammam and 240 miles from the capital, said gunfire and stun grenades were fired by police at several hundred protesters marching in the city streets. The witness also claimed to see at least one demonstrator injured.
"There was firing, it was sporadic," the witness said.
Another witness said police fired percussion bombs to disperse the crowd.
According to the Wall Street Journal, local human rights activists said police fired rubber bullets.
The Washington Post has not independently confirmed this report. A Post correspondent has just landed in Saudi Arabia. We'll update when we have more information.
Video footage has emerged that purportedly shows the protests in Qatif. WATCH:
Deputy National Security Advisor Ben Rhodes said on a conference call with reporters that the White House was aware of reports of firing in Saudi.
"What we have said to the Saudis and to all the people of the region is that we're going to support a set of universal values in any country in the region," he said. "And that includes the right to peaceful assembly, to peaceful protest, to peaceful speech."
He added, "And we'll of course continue to closely monitor this particular situation, get as many facts as we can about exactly what transpired, since these reports are relatively recent."
Oil fell as low as $100.62 Thursday morning, the lowest price this week, but shot back up on the rumors of gunfire, Money News reported.
The reaction to the Saudi development reveals how sensitive the current market is to news of protests in the Middle East. Business Insider's Joe Weisenthal shows just how quickly oil prices surged on rumors of gunfire: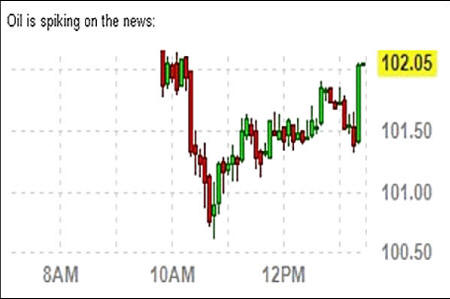 Saudi Arabia has provided a buffer to declining oil supplies resulting from unrest across the Middle East, but that may end Friday, as several thousand people have joined Internet groups to call for Friday's protest in the capital, Riyadh. Energy Digital reports that Friday's "Day of Rage" may cause the biggest oil price spike yet.
In February, Saudi King Abdullah announced a number of reforms, such as pay raises and increased spending on social programs to appease protesters.
A ban on protests was enacted earlier by the government earlier this month.
On Thursday, human rights organization Amnesty International asked Saudi authorities to reverse the ban on peaceful protest in the kingdom.
"Instead of banning peaceful protests the Saudi Arabian authorities should address the need for major human rights reform in the country," Philip Luther, deputy director of their Middle East and North Africa program, said.
Some 10,000 Saudi troops are ready to be deployed to crack down on any protests, the Telegraph reported last week. †